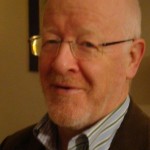 CURRENT AFFILIATION(S)
Professor of Pediatrics – Pediatric Neurology – University of Liège –Belgium
Head of University Department of Pediatrics – University of Liège – Belgium
Fields of specialization:         Pediatric Neurology – Developmental Neurobiology – Learning disorders – Cerebral palsy and Neuromuscular disorders
YOUR EXPERIENCE AS A HARVARD STUDENT/RESEARCHER
Upon my arrival in Boston in 1985 I had already graduated as a pediatrician and had completed my training in pediatric neurology. The first goal of my stay was to carry out fundamental research in developmental neurobiology in order to strengthen my clinical knowledge. The second aim was to have the opportunity to write one or two papers in order to apply for a position as "resident" at the University of Liège. Although I was quite inexperienced in fundamental research, I easily found my place among a very active team of researchers at the Eunice Kennedy Shriver Center under the direction of Professor Verne S. Caviness. Proud of his trust, I was lucky enough to produce a brand new and unique biological marker (RC2) and define sets of experiments promising enough to build a fully new program in his laboratory. It soon became evident that I should extend my stay at Harvard beyond what was initially planned. Furthermore by doing so it gave my wife and I the possibility to take care of a family medical problem. This very early achievement allowed me to apply for a renewal of my grant and extend my stay up to four years. During this four year period I had the opportunity to fully describe some of the most crucial steps of cortical brain development in rodents but applicable in human. Sharing material with other colleagues of the Harvard Medical School as well as with others at Columbia University, St Louis, Yale, etc… gave multiple occasions to set up several collaborative programs together. By the end of my four year stay I also had gained many responsibilities in the conception, and deployment of the brand new developmental neurobiology laboratory at the MGH Boston Navy Yard.
YOUR EXPERIENCE AS A HARVARD BOAS SCHOLAR
From the above short summary it should be obvious that my four year stay at Harvard was a real enrichment at different levels, scientific and academic of course but also in terms of human relationship and management training. Beside the scientific achievements and the subsequent publications the Boas Scholarship was the starting point of my following academic curriculum. The main papers which are the core of my PhD thesis have indeed been written during this scholarship period. I had the opportunity to work with several not only excellent scientists and teachers but also wonderful persons who remain colleagues but moreover have become very good friends.  During this scholarship I also learned to prepare both clinical and scientific project as well as to develop my leadership.
When I returned to Liege in 1989 I had the opportunity to continue some fundamental research for a short period of time. That allowed me to defend my PhD Thesis at the University of Liège in 1991. But soon it became evident that the main expectancy of the University and the hospital was that I should organize the pediatric neurology clinic and its teaching. That became also my personal main challenge. Not only I succeeded in setting up the pediatric neurology clinic but I also had the privilege to orientate the training of 7 fellows in pediatric neurology. We now have in Liege one of the most prominent pediatric neurology team in Belgium and are recognized as a full training service. After being  promoted as "chef de Clinique" I have been appointed as assistant professor of pediatric in 2001 in charge of the pediatric neurology teaching. I was also appointed as medical director of the Liege rehabilitation center for cerebral palsy kids and the reference center for Neuromuscular disorder. Since 2006 I am the head of the largest pediatric service of the University of Liège including 30 pediatricians beside remaining the chief of the pediatric neurology clinic itself. At the academic level I am the president of the "master complémentaire" in pediatrics at the University of Liège and thus have the responsibility of organizing and coordinating the training of almost 40 pediatric trainees.